Control your Destiny with More Direct Bookings
The key to our success has been the longstanding partnerships we have with our Exclusive Local Partners. We have created a new and improved Exclusive Local Partner program designed for full service property management companies that addresses the challenges of most companies in today's changing hyper-competitive business environment. While virtually every property management company already has made distribution on the big OTAs an important part of their business strategy, which we fully endorse, it becomes more important than ever to have alternate streams to drive direct business and communicate directly with potential guests.
The company that we invite to become our exclusive partner in a region will receive the following benefits:
Exclusive distribution on

Rentalz.com

in their destination
A turnkey local

Escape Guide

with rich, fresh content -

fully promoted

and integrated into social media
Use of the TravelPoint advanced data analytics and targeting platform
Ongoing execution of an extensive "Inbound Marketing" campaign
Advanced database targeted marketing with cross-market promotion
Multi-pronged property acquisition strategy
Increase in DIRECT BOOKINGS
What it Takes to Join Us
The company that we select must meet the following criteria:
Forward-thinking and collaborative mindset
Robust depth and breadth of property inventory
Destination market leader
Excellent photography and descriptive property listings
Rich historic inquiry and booking data records
StreamlineVRS, Escapia, TRACK, LMPM PMS client (or BookingPal, NextPax compatible)
The Exclusive Local Partner program is a combination of a modest monthly fee which includes all hosting, content creation, and database marketing plus commissions on bookings from new guests. There are no set-up fees (other than a modest cost of the web hosting company). Besides a monthly commitment of 1 hour from one designated person on your staff, this is a full-turn key source for new bookings. Your inventory is booked online DIRECTLY INTO YOUR SOFTWARE PLATFORM or via trackable phone/email inquiries for your staff to convert into bookings.
For more information about the Exclusive Local Partner program, please complete the form below, or watch the short video that summarizes the program benefits (or click here for all of the program details).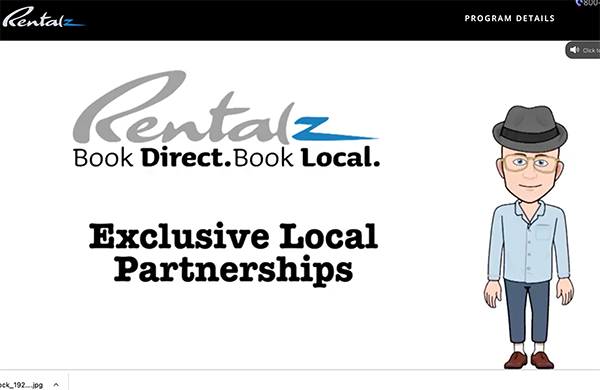 Learn more about the benefits of our Exclusive Local Partner Program